The Club's Results
Lent Bumps 2008
The famous Cambridge University Bumps on the River Cam
Tue 26th February - Sat 1st March
From Cambridge Evening News: 1st & 3rd stay top, King's on the move
FIRST and Third Trinity held on to both men's and women's Headships on the last day of the Lents - but only just.

While the men looked comfortable and maintained their 1½-length starting distance ahead of challengers Lady Margaret up to the Plough before pulling away to finish more than three lengths in front, the women lived far more dangerously.

Emmanuel, who the previous day closed to within half-a-length in the Long Reach before falling back, steadily built momentum to get within striking distance at the Railway Bridge.

They inched closer but, in a frantic spurt for the line, 1st and 3rd scrambled over with a couple of feet to spare.

It was a good year for Trinity crews, whose men's captain Ming-Chee Chung stayed on the bank and coached.

Their second boat won their oars, going up every night, the men's third boat bumped four times out of five, the men's fourths went up two places and the women's seconds three.

The biggest climb of all, though, came from King's women, who moved seven places to finish in the first division for the first time since the women started racing in eights, while King's men are now ninth, the highest they have been for possibly 100 years.

Elsewhere, in the men's first division Pembroke won their oars when they pounced on Caius out of Ditton Corner, while Fitzwilliam felled Trinity Hall in the Gut, Christ's connected with Churchill on Grassy Corner, Magdalene mowed down Queens' coming out of Ditton Corner and 1st and 3rd's second boat stopped Selwyn before First Post Corner.

Head crews - both 1st & 3rd Trinity

Men: cox Emma Leadbetter, stroke Tom Coker, 7 Pedro Cunha, 6 Philipp Preiss, 5 Richard Fletcher, 4 Chris Dunleavy, 3 Bryn Garrod, 2 Dan Jane, bow Peter Ford.

Women: cox Natasha Menell, stroke Cherley Bates, 7 Tera Pruitt, 6 Julia Robson, 5 Harriet Booker (captain) 4 Aline Waguespack, 3 Ulrike Bauer, 2 Hannah Jackson, bow Julijana Gjorgjieva.
---
At the bottom of this page there is a link to Cambridge weather. Club members, please go here to add (or correct) results, crews or race reports.
---
---
---
---
---
---
---
---
Whilst every effort has been made to ensure the accuracy of the following information, note that the results are unofficial.
Men's bumps charts

Women's bumps charts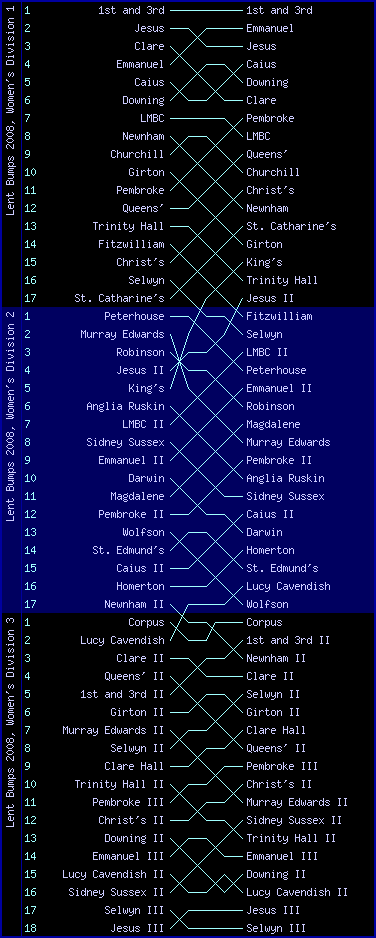 Michell Cup points
| | |
| --- | --- |
| 1st and 3rd | 45.00 |
| King's | 40.00 |
| Pembroke | 34.00 |
| Homerton | 32.00 |
| Christ's | 21.60 |
| Magdalene | 21.00 |
| Corpus | 12.00 |
| Girton | 9.00 |
| Jesus | 9.00 |
| LMBC | 3.00 |
| Clare | 0.00 |
| Downing | 0.00 |
| Emmanuel | 0.00 |
| Sidney Sussex | 0.00 |
| St. Catharine's | 0.00 |
| Selwyn | -4.00 |
| Queens' | -7.20 |
| Peterhouse | -8.00 |
| Anglia Ruskin | -12.00 |
| Caius | -16.80 |
| Fitzwilliam | -20.00 |
| Wolfson | -28.00 |
| Robinson | -32.00 |
| Churchill | -33.00 |
| Trinity Hall | -39.00 |
Ineligible after entering fewer than 3 crews:
| | |
| --- | --- |
| Clare Hall | 18.00 |
| St. Edmund's | 18.00 |
| Lucy Cavendish | 12.00 |
| Hughes Hall | 0.00 |
| Darwin | -36.00 |
| Newnham | -42.00 |
| Murray Edwards | -60.00 |