The Club's Results
Lent Bumps 2002
The famous Cambridge University Bumps on the River Cam
Thu 28th February - Mon 4th March
Tuesday's Racing Cancelled
For the first time in recent history the bumps was disrupted by weather conditions. Strong and gusty winds caused all racing to be cancelled on Tuesday - affecting the first day's races for all the lower divisions in the 5 day format.
---
The event was organised by Cambridge University Combined Boat Clubs. At the bottom of this page there is a link to Cambridge weather. Club members, please go here to add (or correct) results, crews or race reports.
---
---
---
---
---
---
---
---
Whilst every effort has been made to ensure the accuracy of the following information, note that the results are unofficial.
Men's bumps charts

Women's bumps charts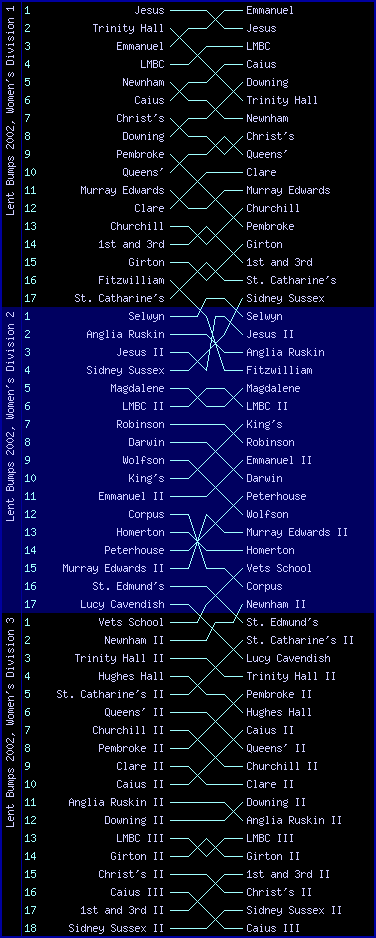 Michell Cup points
| | |
| --- | --- |
| St. Catharine's | 14.40 |
| 1st and 3rd | 12.00 |
| Anglia Ruskin | 12.00 |
| Queens' | 12.00 |
| Wolfson | 8.00 |
| Emmanuel | 7.20 |
| Sidney Sussex | 7.20 |
| Caius | 7.00 |
| Jesus | 4.80 |
| King's | 4.00 |
| Magdalene | 4.00 |
| Downing | 2.40 |
| Christ's | 0.00 |
| Girton | 0.00 |
| Pembroke | 0.00 |
| LMBC | -3.00 |
| Clare | -6.00 |
| Churchill | -7.20 |
| Robinson | -9.00 |
| Trinity Hall | -12.00 |
| Corpus | -16.00 |
| Selwyn | -16.00 |
| Fitzwilliam | -20.00 |
| Peterhouse | -40.00 |
Ineligible after entering fewer than 3 crews:
| | |
| --- | --- |
| Homerton | 30.00 |
| Clare Hall | 24.00 |
| Darwin | 18.00 |
| Lucy Cavendish | 0.00 |
| Murray Edwards | 0.00 |
| Newnham | 0.00 |
| St. Edmund's | 0.00 |
| Vets School | 0.00 |
| Hughes Hall | -6.00 |